Hello everyone,
If you are lost on how to use this plugin. Please do the following:
Make sure you have your project uploaded on the Steam Server.
Make sure that your achievements is set.
Make sure that your project's js/libs folder contains the following files: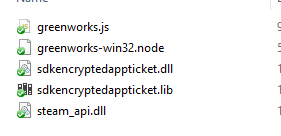 If the plugin still doesn't work for you:

You got the wrong greenworks.
You might have to upgrade or downgrade your Steam SDK version.
Something is wrong with your project.
Hire someone to look into it for you that can provide you 1 on 1 support on Steam-related things.
About Achievements:
Thank you Mia Blais-Côté for sharing this information.
On an unreleased game, the achievements don't appear on the store page and in the library showcase. They show up after the game's release.
Thank you.